Golf Courses.....a region blessed
A golfers paradise! The Mornington Peninsula  is internationally recognised as one of the finest natural golfing regions in Australia, boasting spectacular coastal and hinterland scenery, all round play and most importantly great courses to play.






 
Rosebud Country Club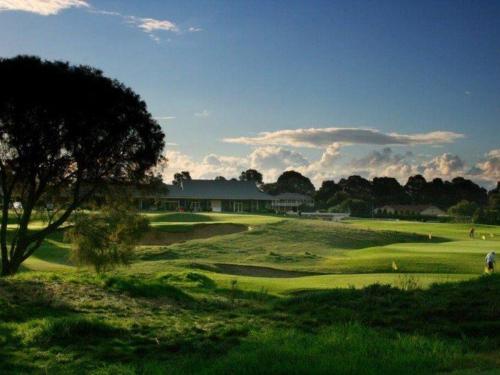 Rosebud Country Club offers visitors access to two 18-hole golf courses. Both offer a contrasting experience ? the North course is framed by large pine trees, while the South Course boasts wide fairways and large greens. Rosebud Country Club is pleased to offer a complete practice range experience. Enjoy the 220m Driving Range along with chipping greens, putting greens, and practice bunker.
The National Golf Course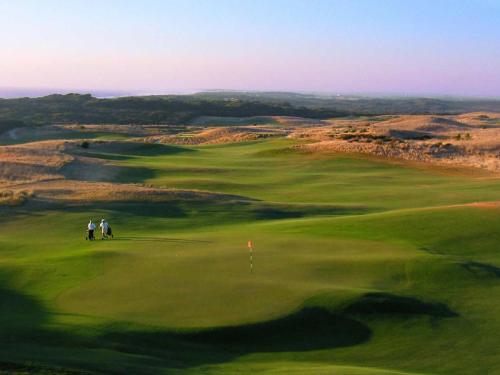 3 x 18 Hole Courses
A members only private Club with three premier courses all rated in the Australian Top 30.
Stunning surrounds offering the most incredible golfing experience. Fairways Resort membership at the National Golf Course enables our guests a choice of tee times at any one of the Nationals Courses.
The Old Course -designed by Robert Trent Jones Jr;
The Moonah Course - designed by Greg Norman
The Ocean Course - designed by Peter Thomson. Australian Top 25 Course.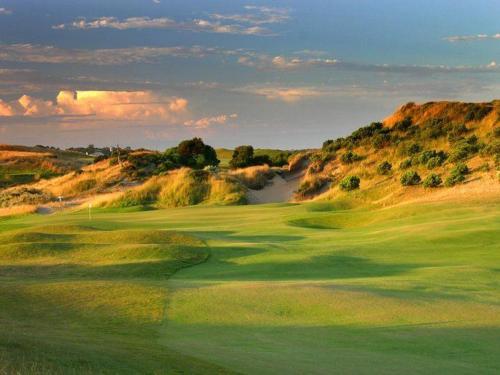 The Dunes
One of Australia?s most popular public courses.
Set amidst more than 150 hectares of rolling coastal sand hills in 'The Cups' region of the Mornington Peninsula, The Dunes 18 hole championship course has been designed to exploit the natural beauty of the terrain, while providing a true test of skill and judgment for golfers of every level.
The abundant charm of the par 72 layout is dramatically enhanced by the technical merit of the course. At 6,409 meters in length, the sloping fairways meander through undulating knolls and ridges, leading to expansive greens that are typically sheltered in a natural amphitheatre or exposed on elevated promontories to the full force of the elements.
1 x 18 Holes, 1 x 9 Holes.  
Moonah Links
2 x 18 Hole Courses
1 x designed by Peter Thomson.   Australian Top 25 Course.
Legends Course
"The Legends Course stands as a tribute to past champions who have contributed to the rich history of Australian golf.
In contrast to the Open Course, which was purpose built to challenge the modern champion, the Legends Course will be a more friendly golfing experience for players of all ages and abilities.
The course is a loop of 18 holes that generally follow the valleys through a variety of landscapes ranging from ancient Moonah woodlands to open links land. The fairways are generous and the putting surfaces gentle, but the bunkering style is bold and wild in appearance. At 6,315 metres, the course should be fun, but it won't be a pushover.
Open Course at Moonah Links
The Open Course at Moonah Links is the first ever 18 holes built and prepared for a national championship, with exceptional viewing platforms for spectators. It is one of the longest courses in Australia, and probably in the world in this category.
It measures 6783 metres, so it offers more than a casual stroll in the outdoors. It is a mighty and ferocious test of golfing ability, the likes of which even the top pros only occasionally experience. It can be played at many different lengths depending on tees selected.
Indeed, it is expected that the total length will only seldom be used for the real championship occasion.
In addition to its conducive natural contours, the site is blessed with ever-present wind of some direction and strength, and this enhances its attributes. Planning has arranged that no particular direction is especially helpful, it is always a factor.
The Leviathan of a course is a new experience for Australian golf. Visitors will get a whiff of what top championship play is really like.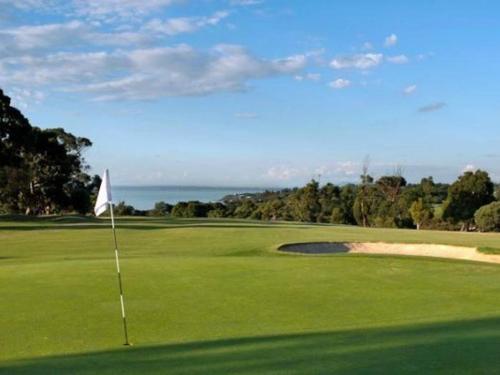 Mornington Golf Club
1 x 18 Holes
Standing on most tees, the view across the bay to the city is breathtaking. Fairways are lush Santa Ana Couch grass, offering near perfect lies. Greens are fast with subtle breaks, so get your line right.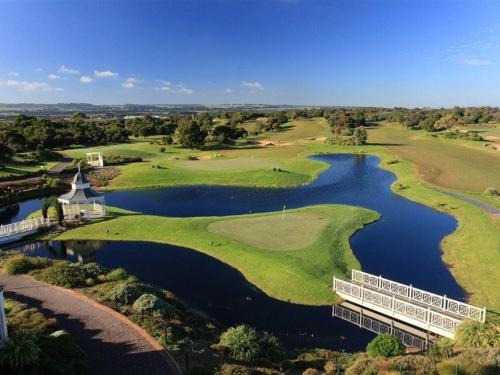 Eagle Ridge Golf Club
Eagle Ridge surprises newcomers with its spectacular surrounds. The heavily featured and landscaped layout offers a unique challenge and a fair test of golf, and keeps players coming back for more. Designed to cater for all handicaps, the course rewards accuracy and offers all golfers a great day out.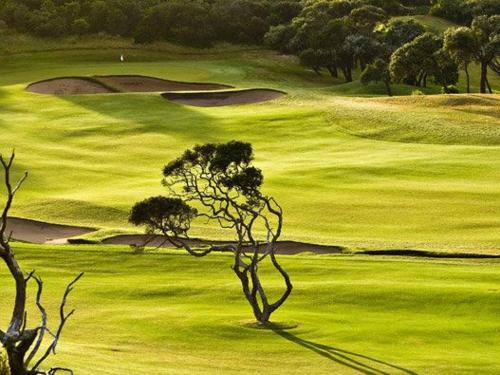 Portsea Golf Club
Portsea Golf Club is a wonderful public access course located adjacent to the Point Nepean National Park.
A links style course set amongst rolling sand dunes and coastal vegetation with spectacular views across Port Phillip Bay. Undulating Santa Ana superbly maintained couch fairways, fast greens and strategic bunkering make Portsea one of the great golfing challenges on the Mornington Peninsula. Consistently rated in the Top 30 golf courses in Australia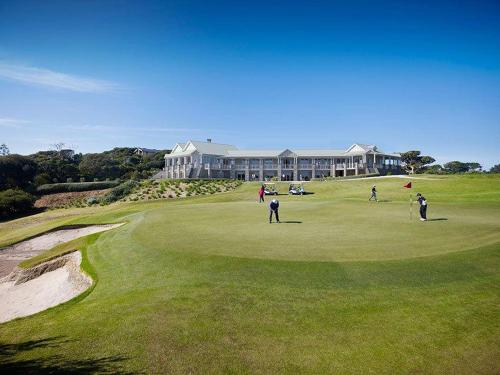 Sorrento Golf Club
Sorrento Golf Course is a well groomed, hilly course with all year playability set on a sand and limestone base. It's generous fairways and roughs are surrounded by densely wooded plantations, and bent grass greens are moderately to heavily bunkered. When Melbourne's early stalwarts travelled to the Mornington Peninsula for their holidays, they took their golf along with them.
The Sorrento Golf Club became the "Royal Melbourne of the South", a course built on classic lines, borrowed from the original, for the joy and pleasure of golfers good and bad - 18 holes, each with a character all its own, challenging you to a rematch, over and over again.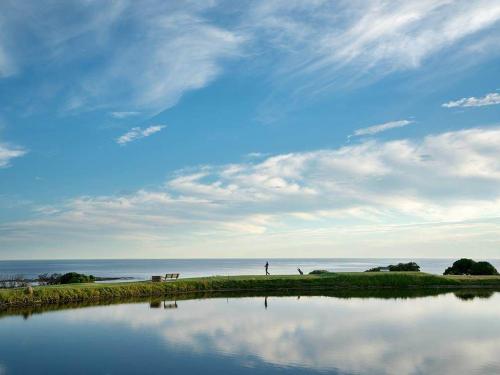 Flinders Golf Course
Founded over 100 years ago, the Flinders Golf Club remains one of the most scenic and accessible golf courses on the Mornington Peninsula.  
Built along a stunning stretch of cliff-top land overlooking Bass Strait & Western Port Bays, The Flinders Golf Club welcomes members and visitors 7 days with the Pro Shop open from dawn 'til dusk.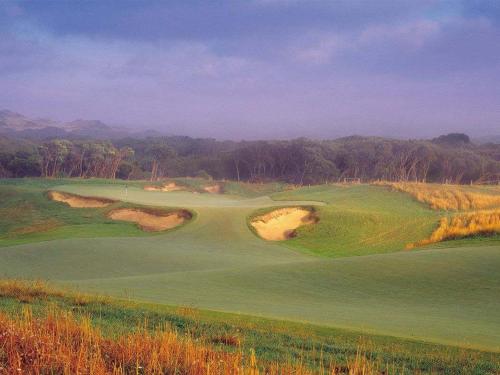 Cape Schanck
Designed by renowned architect, Robert Trent?Jones Jnr, the resort course features huge greens, large open bunkers tree lined fairways and spectacular ocean views on eleven holes.   With excellent drainage the superbly manicured greens and fairways provide high standard year round playing conditions.
18 Holes, Par 69, Slope 137, 5467m.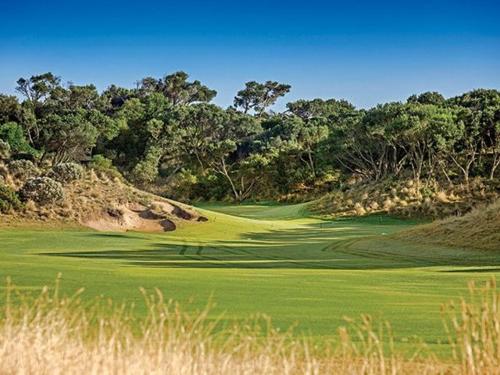 The Golf Club St Andrews Beach
Located in ?The Cups? region of the Mornington Peninsula and metres from the thundering surf of Gunnamatta Beach, St Andrews Beach Golf Course originally opened as an exclusive members course and debuted as the 9th best course in Australia in 2006. It is built on a stunning piece of land that lends itself perfectly to the tradition of the famous links courses of Britain and Ireland and can be compared favourably with the courses in Melbourne?s famous sandbelt region.
Internationally renowned golf course architect, Tom Doak is the designer of this classic 18 hole links style course and his aim was to create one of the best golf courses in the world.  
Rosebud Park Public Golf Course
Situated on the slopes of Arthurs Seat overlooking Rosebud and Port Phillip Bay. The Course provides spectacular views of the Bay and surrounding rural landscape.
The 18 hole course has constantly watered (recycled) fairways, wonderful putting
greens, some extremely challenging holes, a resident teaching professional and plenty of parking.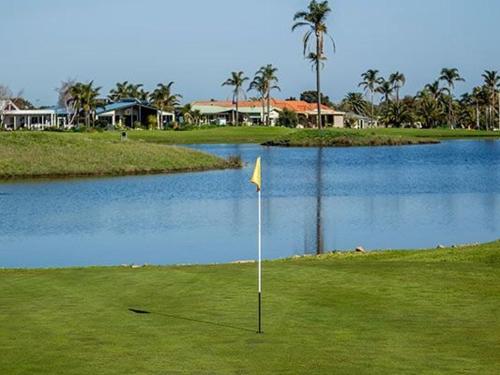 Mount Martha (Safety Beach) Golf Course
The golf course winds through the estate with 500 mature palm trees and 3,000 native trees recently planted. There are 26 beautiful lakes with a myriad of bird life, views to Arthurs Seat.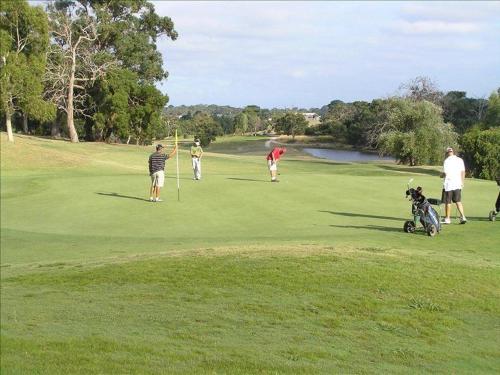 Devilbend Golf Course
Devilbend Golf Club is the sleeping giant of the Mornington Peninsula. This club offers the most challenging course with beautiful country atmosphere. A challenging 18 hole 5998m course set amidst a flora and fauna reserve.